Online Medical Marijuana Registration and Cards in New York State
Are you curious about seeing a doctor in New York for medical marijuana? Now you can, online in 10 minutes!
How to Be Evaluated Online for Cannabis by a New York Doctor
If you're a New York State resident asking yourself, "where can I get
marijuana evaluations near me?
" and "is there a
24 hour dispensary near me
?," you've come to the right place at the right time.
The NYS Medical Marijuana Program is in full swing thanks to NuggMD, the nation's fastest-growing service to connect with a
New York medical marijuana doctor
. Getting your medical certification and cannabis card has never been easier—so what's stopping you?
"I don't want my name on any government list"
You're kidding, right? The only place your name appears is on the closely-guarded state medical marijuana program's list of patients, and only until your MMJ recommendation expires.
Having your name on that list keeps you from being arrested or harassed by police for marijuana possession. Neither the federal government nor ANY law enforcement agency has ever subpoenaed the records of state medical cannabis programs for any reason in the 20+ years records have been kept.
NuggMD
keeps the process discreet and makes sure your medical marijuana records remain hidden under federal patient privacy laws.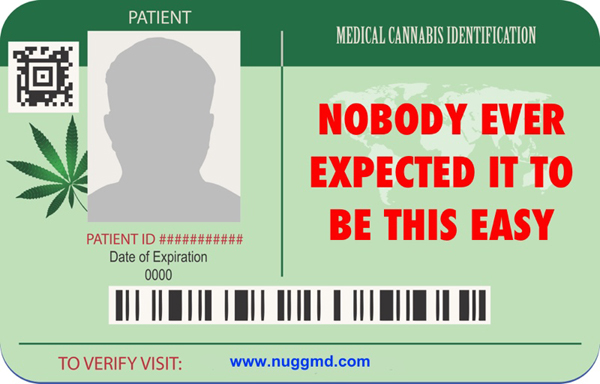 "I probably won't qualify for a NYS medical marijuana card"
Although there are no guarantees, remember that NuggMD is here is help you navigate the strict regulations to and get legal in the Empire State. The program is in place to include people who most need access to high-quality marijuana products, not exclude them.
Currently, the list of qualifying medical conditions reads like a list of grave ailments—AIDS, HIV, inflammatory bowel disease, multiple sclerosis, Huntington's Disease, neuropathies, Parkinson's Disease, epilepsy, cancer and Lou Gehrig's Disease (ALS). But now chronic pain has been added, so the NYS Health Commission wants you to get approved and pain-free.
NuggMD will do everything in its power to help you qualify—if you don't pass, you pay zero for the entire process!
"I'm lazy"
We're all lazy, that's why Amazon delivers by drone. But an online medical marijuana evaluation and consultation to obtain your
New York medical marijuana card
is as easy as clicking your mouse.
From the privacy of your home, you can register with NuggMD, fill out a basic medical history questionnaire, and undergo a brief teleconferencing chat with a licensed NY physician who specializes in MMJ treatment. After approval, you'll receive your state-approved medical marijuana card and certificate in the mail. Click one and done.
While
buying recreational marijuana
remains illegal in New York, there are no more excuses stopping you from signing up for the program; go to NuggMD today! Your MMJ access is waiting—and look out for Nugg's
marijuana delivery
coming soon!
Sign up today, and get access to the incredible range of cannabis products on the market -- flowers, edibles,
vape cartridges
, tinctures, oils, rubs, and more!
Comments
MUST READ NEWS
VIDEOS
---
MOST READ
MOST COMMENTED